August 2017 was a remarkable time in Asian American cinema, where not one but two Asian American-led and Asian American-starring films were released to some of the best reviews of the year. One of them was Gook, Justin Chon's timely and explosive exploration of racial conflict through the oft-ignored looting of Korean American businesses in the 1992 L.A. riots (see Plan A's interview with him here). The other, Kogonada's Columbus, was a much less bombastic work, but still no less imbued with a total Asian American subjectivity.
In stories, there are no small stakes, only improper scaling. Even a nuclear war looks like small potatoes next to a supernova. On any given day, very few people will save lives or win a war. Yet people will still be deeply invested in the small outcomes between the time they wake and sleep. They don't need dragon battles to care about things.
Thus, a subtle film like Columbus needs to immerse the audience into the context of its characters, to make us care about the few times that Jin (John Cho) and Casey (Haley Lu Richardson) see and talk to each other in non-life-or-death situations. He's a Seoul-based book translator who has just flown into the town of Columbus, Indiana — a "mecca" of modern architecture — because his famous architecture scholar of a father has fallen into a coma there. He never got along with his father and secretly doesn't want him to recover. She's a local, a year removed from high school graduation but still at home and working at the library. She is happy to take care of her mother, a recovering drug addict.
It's the latest reiteration of a familiar premise: the serendipitous meeting of two strangers, often of opposite genders, who uncharacteristically open themselves up because of compressed time and space. We've seen it in Brief Encounter, Roman Holiday, Summertime, the Before Trilogy, Once, and Lost in Translation, just to name a few of the good ones. Plenty of bad incarnations too, like Broken English, It's Already Tomorrow In Hong Kong, and Away We Go. So Columbus isn't narratively groundbreaking, but it doesn't have to be. Joseph Campbell, The Hero With A Thousand Faces, yadda yadda yadda.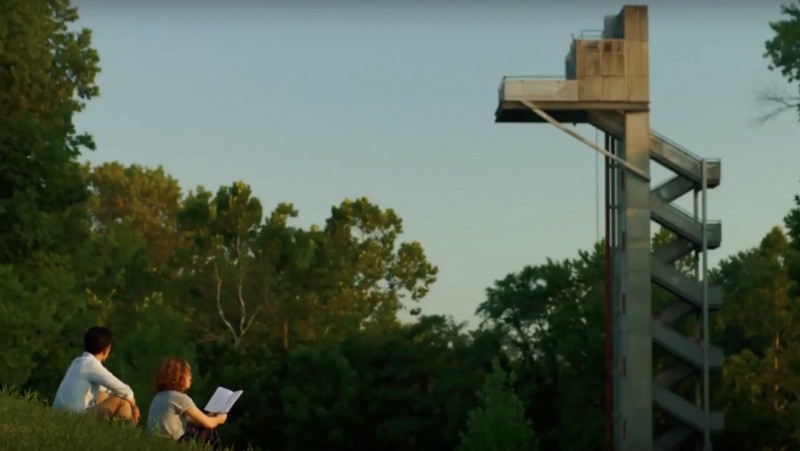 Columbus is superb because it succeeds quite marvelously in its scaling of stakes. To be honest, the ponderous trailer worried me. I feared Jin and Casey would be drawn to each other like flying insects to the bright light of plot necessity, during which they would gaze seriously into the distance as they rattled off semi-deep questions to one another. But the film loves them so much more than that. Their quiet interactions still crackle with natural humor. It's not a Marx Brothers type of humor dependent on clever lines, but instead on the generous vulnerability shared by two lonely people. Feathers tickle most on sensitive skin.
As someone who has known the celluloid John Cho since American Pie, I can't overemphasize what a revelation he is here. I admit I underestimated him, even though he had such screen presence that he parlayed his MILF Guy appearance in American Pie into cinematic immortality. For so long, Cho suffered polite liberalism's treatment of Asian men, where he would get a patronizing backpage in People's 50 Most Beautiful list. As with Denzel/Will/Idris, he became the Hot Ethnic Guy that people claimed to love. Yet this love rarely carried over into casting. Having Harold and Kumar Go To White Castle as one's crowning achievement is absolutely nothing to be ashamed of, because I do love that film and think it was a cultural milestone. But it didn't seem right for Cho to have peaked in a 2004 stoner comedy that ultimately boosted Neil Patrick Harris's career more than anyone else's.
In a Vulture interview in 2016, Cho talked about the importance of how actors are shot on film and how Hollywood's indifference to Asian characters manifested itself in pure visual indifference as well.
"I've seen many instances where we're seen as a little less than human, or maybe a little more than human — like ultrahuman, rather than subhuman. What is wrong with film representation? Some of it is mechanical, surprisingly. I've thought about why Asian stars — from Asia, I mean — look so much better in their Asian films than they do in their American films, and now I can answer that to some extent. There's an eye, and it's not a malicious eye, which is a way that the people working the camera and behind the scenes view us. And then they process it and they put it on film. And it's not quite human. Whereas Asian films, they are considered fully human. Fully heroic, fully comic, fully lovely, fully sad, whatever it is. And it's this combination of lighting, makeup, and costume." — John Cho
He looks so magnificent here that it is almost as if the director Kogonada had read that interview and made this film in response. One scene takes place in a meticulously beautiful inn, where Jin is staying. An out-of-focus sofa is in the middle of the shot, and it's unsettling because you're looking at this splendid room (in a film all about architecture and design, no less), yet the apparent object of interest is blurry. What exactly are we waiting for? The answer comes when Jin enters the scene. But it's not even his whole self. It's just his legs taking up the screen as he paces back and forth while on the phone. He then lays on the bed, angling his well-dressed legs (seriously, his wardrobe is fantastic in every scene) in angular patterns. Just John Cho's legs: worthy of center stage.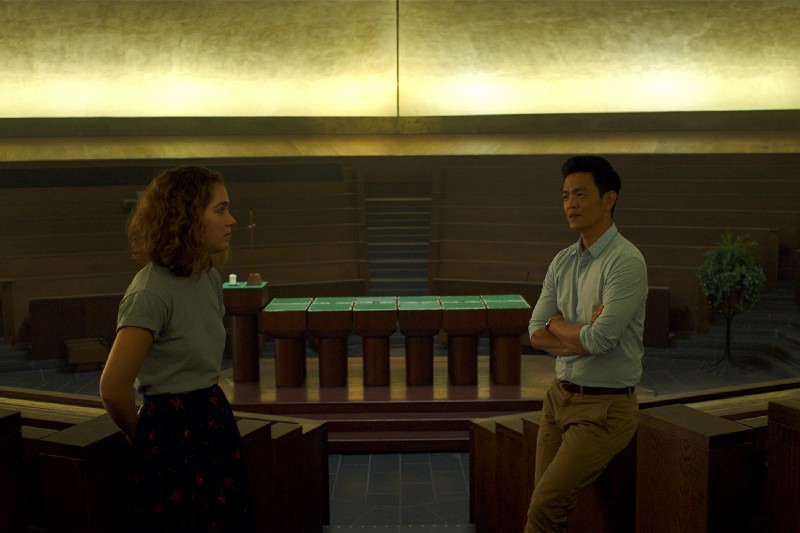 In a film full of gorgeous portrayals of mid-century Modernist architecture, the two most remarkably lingering scenes for me had nothing to do with anything like Eero Saarinen's North Christian Church. One is a scene between Jin and Eleanor (Parker Posey), framed entirely within a mirror. The scene is rife with tensions because she knows his father better than he does (Jin's father has been her long-time mentor), and Jin once confessed his love for her when he was a teenager. But we are not informed of these elements by clumsy emoting and lines. The composition of the shot tells us that we're spying on an intimate scene that, outside of cinema, would make us all creeps. A similarly shot scene is Casey's last night at home before she heads off for university. She and her mother are in bed together, the latter closer to the sedentary camera where we can clearly see her face. Casey's mother has been the one pushing her to finally leave town all this time, but as her jokes about last dinner inevitably turn into apologies for regretful mistakes, we see her emotional state turn in real time. The camera refuses to move, as if placed with the confidence of an architect who trusts his foundation. Again, the audience feels like voyeurs, looking into the private moments of characters we care about.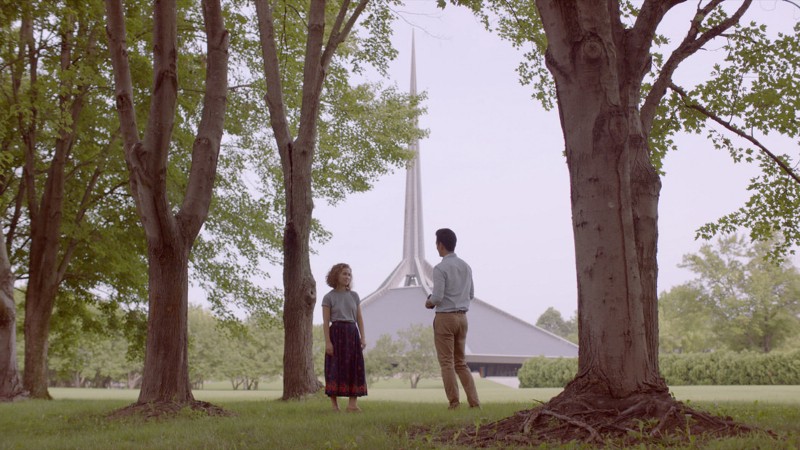 To understand what makes one film work, it is useful to compare it to a similar one that does not. You may recognize the greatness of a masterpiece like Lost in Translation, but still take it for granted. Then you watch something like Broken English and realize how it could've easily gone so wrong.
Lost in Translation is a close analogue for Columbus, but a more useful comparison is Liberal Arts, directed by and starring Josh Radnor. That too is about a somewhat older man (mid-30s old, not Bill Murray old) visiting a picturesque Midwestern location and randomly meeting a precocious younger woman. Both films show admirable restraint from pursuing the typical movie message that strong connections between men and women have to be consummated by sexy sex in order to truly mean something (which, in Columbus's case, also avoids the unfortunate message of a minority man being saved by white-girl sexual healing). But Liberal Arts relied on cringe-worthy idealization of college and mutual shallow appreciation of culture like classical music to bring its characters together. You can't help but roll your eyes at the pairing of Josh Radnor and Elizabeth Olsen.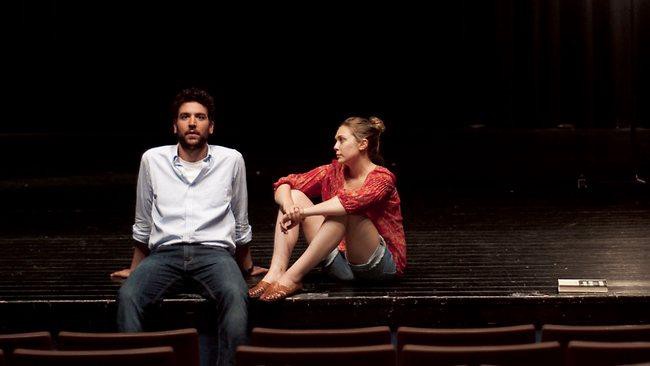 In contrast, Columbus has much more substance in why Jin and Casey are drawn to each other. Even the Meet Cute makes sense: Casey is an "architecture nerd" who knows something happened to Jin's father because she was supposed to go see him speak. Lo and behold, she sees a younger Asian man, probably a rare sight in her town, suddenly arrive at the hospital where Jin's father is in. It's even a play on the trope that white people think all Asians are related, which the film elegantly uses to not only cross the characters' paths, but also to assure the audience that this is a real world where characters are not oblivious to race.
From then on, Casey's love for architecture becomes the basis for their connection. It's not because they are both pretentious snobs who want to sip Aperol and talk about Le Corbusier all day. In fact, Jin says he doesn't even care about architecture, likely due to resentment against his father. But Casey loves it, for deep-rooted personal reasons, and through that, we see their relationship blossom. Through her, Jin even comes to understand his father a little bit more.
Ultimately though, the story is about Casey's journey, from trying to always make sure her mother comes home at night to summoning the will to leave. Haley Lu Richardson's performance and Casey's character are so strong that we believe that this beautiful and smart girl can be an object of pity. All her friends have moved on to better things, and despite all her promise, we can see how she has this dangerous inertia that will turn all that promise into what-might've-been faster than anyone at that age can anticipate. At the end, as she is leaving town for good, she breaks down in the car as she realizes that some part of her relationship with her mother has been permanently severed. Nobody has died. She will surely return soon to see her mother again. But it is still crushing. Monumental stakes, scaled properly.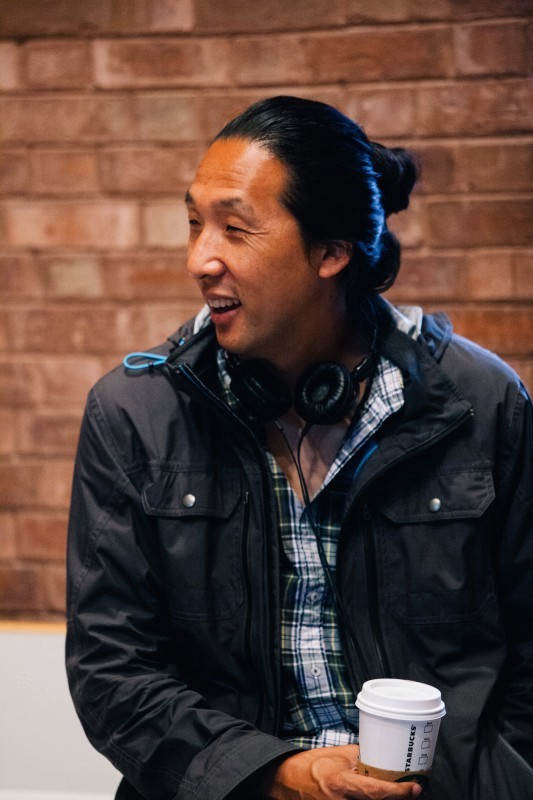 I was fortunate enough to attend a screening where both Kogonada and Haley Lu Richardson held a Q&A session afterwards (along with the architect Deborah Berke). I asked Kogonada about something he'd said in an interview about not knowing until later in life that his parents had actually been huge cinephiles in Korea, but had to subsume that part of themselves when they adjusted to a working-class immigrant life in America. I asked him whether this gap between him and his parents influenced the film and his artistic drive in general. He said that while there was nothing strictly autobiographical in Columbus, his experiences were embedded throughout. He also said he wonders what kind of absence and presence he has in the eyes of his two sons.
As a viewer, you can see all this in not only Jin's removal from his father, but also in Casey's devotion to her mother, which is a stereotypically Asian trait that is exemplified by a small-town white woman in this film. Kogonada has repeatedly cited Yasujiro Ozu as a major influence, a name I only knew of because I happened to see that name occasionally pop up when browsing through FilmStruck. Recently, I watched Ozu's Tokyo Story and it's an astounding work that I may never have watched were it not for Columbus.
Asian Americans often complain about media representation, and justifiably so. But what does good representation look like? Does it mean having an Asian James Bond? An Asian Wonder Woman? Telling light-hearted stories to make it seem cool to be Asian, or exposing the hidden infighting and festering wounds of the community? What do we really want from media representation anyway?
Columbus provides part of the answer because it is media representation in its highest form. It's beyond just creating one character who "busts stereotypes," a concept that often becomes a slave to its own reactionary outlook. Columbusis distinctly Asian American because of how its artists imbue it with their experiences, philosophies, and influences. If Jin were white, the story would likely be different. But it's not just about Jin, because all these elements aren't concentrated into one discrete aspect. Rather, those elements are diffused into every molecule of the film, obviously detectable in certain regards and almost invisible in others. Pervasive whiteness is replaced by pervasive Asian Americanness. There are even sub-layers, such as Ozu's influence, which may spur many Asian Americans to explore classic Asian films and learn more about where their families came from, not just in a literal sense, but from a cultural or even spiritual sense. Columbus isn't just a great film; it's also a flickering promise to fill part of that emptiness in Asian American culture, that disconnect from a past that's too near to forget, yet too far to truly know.