Down goes Germany! Korea with the knockout blow! What a phenomenal result in what's been a phenomenal tournament!
And my god, the sheer happiness! Koreans and Mexicans and Swedes all celebrating together! Plus every nation that's ever had their dreams destroyed by Germany (i.e. everybody)! This went out for Brazil for their 7–1 loss in 2014. This went out for the Netherlands for their 1974 final loss that doomed the Cruyff generation to the World Cup shadowlands! This went out for Algeria who got cheated out of a place in the knockout stage by a second Anschluss between Germany and Austria in 1982 (see Disgrace of Gijon)! The list could go on and on.
There was that clip of Korea star player Son Heung Min sobbing before Korean President Moon Jae In after Korea's loss to Mexico. President Moon gave him a dad-smile and told him it was okay (after all, Son wasn't the one responsible for preventing nuclear war). He also told the rest of the team to keep fighting and make their country proud.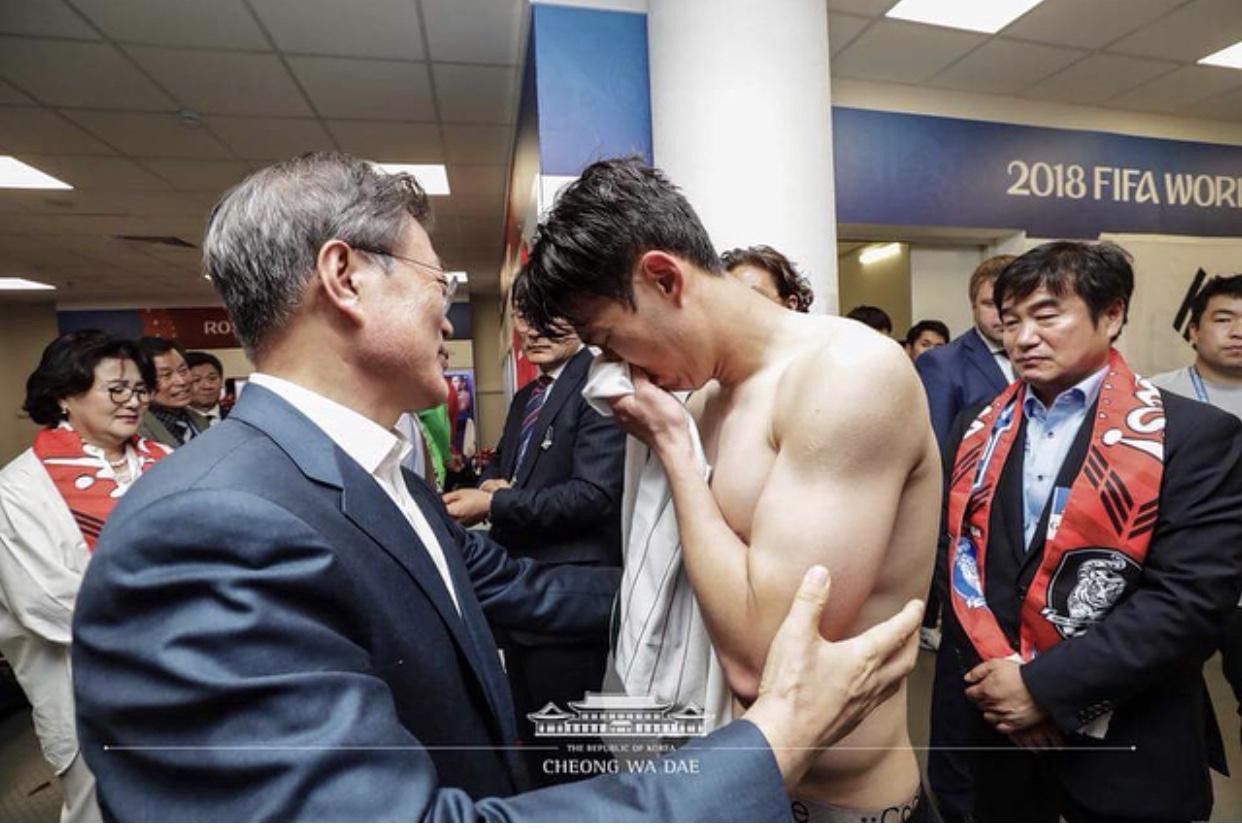 The next tears Son cried were those of ecstasy after he captained Korea to a seismic and historic group-stage knockout of Germany. Before, against Mexico, Son willed himself in the final minutes to score what will undoubtedly be one of the best goals of the tournament. He was so exhausted he could hardly even celebrate. Against Germany, deep into added time, he somehow sprinted the length of the entire German half of the pitch to score the goal that would obliterate Germany's dream once and for all. I saw a young man who knew he was the greatest talent his country has ever produced and wanted to exorcise the all-too-many international ignominies he'd shouldered in the past few years.
I have to wonder what the Mexican players were thinking when they knew their bout was lost. Could they really count on Korea to draw, or dare defeat, Germany? Were they listening for cues from their supporters: cheers to indicate a Korean goal and tears for a German one? What about Mexican fans? Once Sweden scored a dagger second, how much hope did they put into Korea? And how much of their subsequent happiness was because they really had no right to expect Korea — especially this squad that had lost two matches already and was missing star captain Ki Sung Yueng to injury — to beat or even draw Germany. Only a true friend would do the impossible. And Korea did.
To be truly honest, I was telling myself that a 4-goal loss wouldn't be that bad. This Germany core has put up 4 against far better teams: England and Argentina in 2010 and Portugal in 2014. And obviously, 7 against Brazil in 2014. So 4, I could take, but 5 or more would be unbearable humiliation. My Korean co-workers invited me to watch the match in the coffee lounge, but being around others would only have a multiplier effect on the likely disaster up ahead. I told myself I shouldn't even watch (I'd already skipped Korea vs. Sweden out of pessimism), because then I wouldn't have to care, and then it wouldn't hurt. But of course, I had to watch. By myself.
---
My first exposure to the World Cup came in 1998 via highlights on a late-night sports show called SportsPage. This was Canada, so nobody cared about soccer. After the hockey and basketball stuff was finished, I'd see clips of this odd tournament where countries like Croatia and the Netherlands, and not the United States, were top dogs. In the end, I heard France won.
The 2002 World Cup was the one that really pulled me into soccer. Actually, I hadn't really been aware that that World Cup was going to be (jointly) held in Korea until it was just about to happen. I'd just started high school and one of my closest friends, who was Polish, said that Korea and Poland were going to play in their first match and Poland was going to win. I figured he was right since most of the best teams were in Europe. One day, at lunch, he sheepishly congratulated me because Korea had beaten Poland 2–0 earlier.
From then on, I would watch. I watched Korea earn a draw against the United States, upon which goal-scorer Ahn Jung Hwan broke out a playfully taunting celebration against the Americans for a disputed speedskating incident in the 2002 Winter Olympics. I watched them beat Portugal, and then Italy, and then Spain, before logically bowing out before Germany in the semi-finals.
That 2002 tournament was more than just a sporting event to me and to a lot of other Koreans. Though it was less than 20 years ago, Korea as a nation changes so rapidly it seems double that time lapse. Until that World Cup, I'd never seen Korea triumph in anything, much less over Old World European powers. Sure, we got fed stories about the wonders of the "Asian Tigers," but that wasn't the same. Besides, however miraculous the Korean economy was, the country was still mainly seen as an obedient factory, churning out cheap and replaceable goods. Korean entertainment was kind of interesting, but it was mainly "just" an Asian thing.
So it was a breathtaking sight to see, for the first time, hitherto anonymous Korean players named Kim and Ahn and Lee grab glory over those you saw in Adidas commercials. Those who were always supposed to do the admiring turned themselves into the admired. The extras became the protagonists.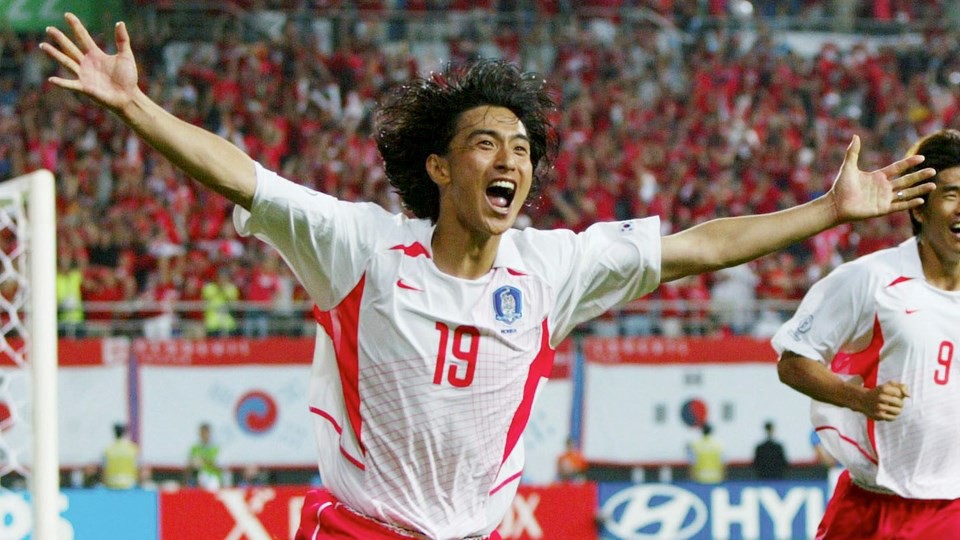 But the whole thing wasn't without controversy. In the Italy match, Francesco Totti got sent off for diving in extra time, which led to allegations of ref-bribing. In the Spain match, a couple of questionable calls cost Spain two goals. I doubt many people who talk about those matches today actually watched them in full. There are plenty of selectively edited Youtube videos, however.The whole backlash pissed me off, especially with respect to Italy, because even if Totti's second yellow was harsh, the fact remains Seol Ki Hyeon scored a miracle equalizer in the 88th minute to force extra time to begin with. The fact remains that even with a man advantage, Korea only got that advantage quite late into extra time and still had to score a goal against the much-vaunted Italian defense (which they did). The fact remains Christian Vieri not only broke Kim Tae Young's nose without getting sent off, but also missed one of the most laughable sitters in the final minutes of regulation. The fact remains that those who claim Damiano Tomassi had a goal unfairly "disallowed" ignore the reality that (a) the offside call was very close, and (b) he only "scored" because he kept playing way after the whistle had blown, when everybody else had stopped.As for Spain, the calls weren't good. But Korea still held their own to win in penalties, a feat that England has never managed to do in the World Cup.All sorts of debatable calls have happened in the World Cup, often for the benefit of established powers. For instance, Frank Lampard clearly scored a goal against Germany in the 2010 quarter-finals, only to have it bafflingly ignored. Yet there was little anger about that. Or what about Arjen Robben blatantly diving against Mexico in 2014 to get a last-minute penalty for the win? Well, that was Germany and the Netherlands, I suppose. They're meant to be winners and heroes anyway.There's something that Koreans do that needs to stop. Often, I'll hear us say things like "You know, Koreans are like the Irish of Asia." Sometimes, it's "Italians of Asia." It's a seemingly cosmopolitan way to say that Koreans drink a lot, emotional, and a bit unruly. But I bet the Irish or the Italians never say they're the Koreans of Europe. So why are we always the ones measuring ourselves against them, acting as though we're merely Asianified derivatives?I see this play out in the many Asian fans of European teams like Italy and Germany. The World Cup seems to be an opportunity that comes every four years to re-imagine themselves in more idealized forms that belong to more glorious national identities. I see it linked to a common issue among young Asian American writers who often have to overcome an inability to write main characters of their own race. Like David Copperfield, we're unsure if we're even the heroes and heroines of our own stories.
---
On June 27, 2018, when Korea pulled off that upset against Germany, I got to feel a purer form of what I wanted to feel in 2002. It was just pure joy from all around the world. Korea played an unimpeachable match and, in fact, would've been on the wrong end of a heartbreakingly erroneous decision if VAR did not exist. It was also a gift to the world, given by a side that logically should've folded to a respectable loss at best. When the Korean players saw the Germans relentlessly going for the win, they must've at least had an inkling that Sweden might be winning. But still, the Koreans fought for themselves and for everybody else rooting for them (or at least against Germany). And so, there was the kind of international jubilation that is probably only topped by allied victory in war.
Yet it felt like mere fun, as opposed to something revelatory. As I've gotten older, I've learned to put less importance on single events to bring about the changes I want to see. Minds and cultures are not shaped in such rapid fashion. And Korea in 2018 is not Korea in 2002, and I'm not the Korean kid I was back then either. Getting to feel like the protagonist is always nice, but both Korea and I have gotten a little more used to it as the years have gone on.
I have to say, though… Beating Germany still feels almost like winning the World Cup itself. And everybody's a winner (except for Germany)! But they can afford to be a good sport! Let's have some kimchi tacos and Modelos to savor the moment!